Stainless steel watches are known for their durability, resistance to corrosion, and overall sleek appearance. As a leading supplier of stainless steel watches, AIGELL WATCH takes great pride in its production process, from crafting to assembly to maintenance. In this article, we will delve into the details of the art of crafting and assembling stainless steel watches.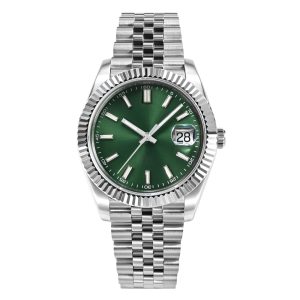 Crafting Stainless Steel Watch Cases
The production of a stainless steel watch starts with the case, which houses all the internal components. AIGELL WATCH uses 316L stainless steel for its watch cases due to its corrosion-resistant properties. The steel is first cut into the desired shape, then polished to remove any imperfections. Next, the case undergoes a series of machining processes, including drilling and threading, to create the necessary holes for the crown, pushers, and case back. The case is then cleaned and inspected for any defects before being sent to the assembly line.
Assembling Watch Movements
The movement of a watch is its most essential component, consisting of the mainspring, balance wheel, and gear train. AIGELL WATCH uses high-quality Swiss and Japanese movements, which are known for their precision and reliability. The movements are carefully inspected and tested before being assembled into the watch case.
Once the movement is in place, the dial, hands, and bezel are added to the watch case. AIGELL WATCH takes great care to ensure that each component is aligned and secured correctly. The crystal, which protects the dial, is then added, and the case is closed with a case back.
Finishing Touches and Quality Control
After the watch is fully assembled, it undergoes a series of tests to ensure that it is functioning correctly. These tests include accuracy testing, water resistance testing, and stress testing. Once the watch passes all tests, it is sent to the finishing department, where the bracelet or strap is added.
AIGELL WATCH offers a range of options for bracelets and straps, including stainless steel bracelets, leather straps, and nylon straps. The bracelet or strap is attached to the watch case using specialized tools to ensure a secure fit.
Maintenance and Care
Proper maintenance and care are essential for keeping a stainless steel watch in top condition. AIGELL WATCH recommends wiping the watch down regularly with a soft, dry cloth to remove any dirt or grime. Avoid exposing the watch to extreme temperatures, magnetic fields, or direct sunlight, as this can damage the movement and affect accuracy.
In conclusion, the art of crafting and assembling stainless steel watches requires precision, attention to detail, and a dedication to quality. AIGELL WATCH takes great pride in its production process and is committed to providing customers with high-quality, reliable watches.